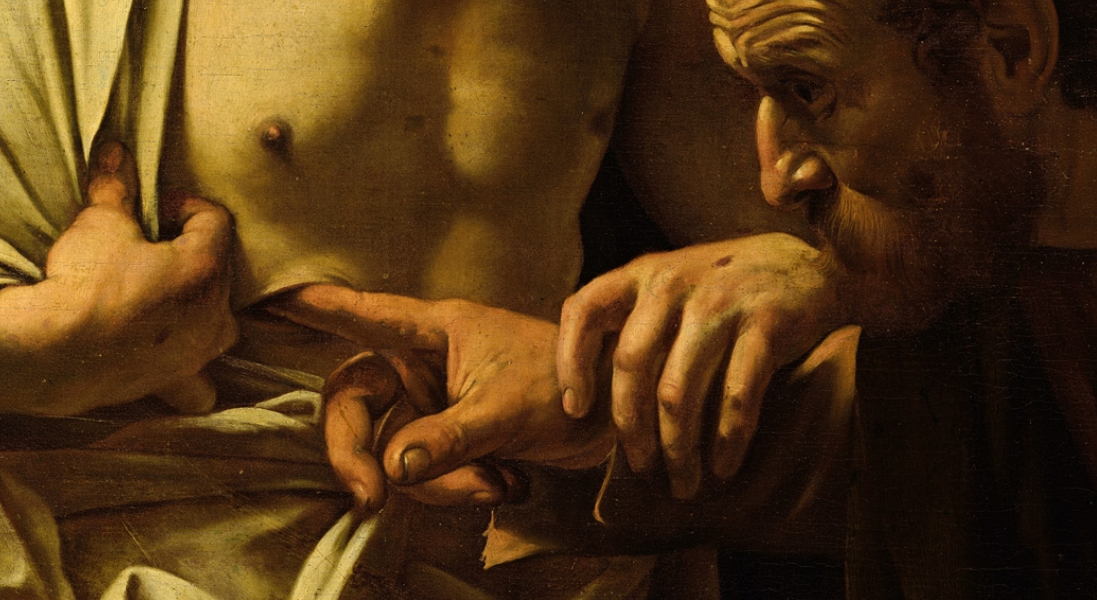 30 Apr

Reflections on Touch, Part I

Unless I see in His hands the print of the nails, and place my finger in the mark of the nails, and place my hand in His side, I will not believe. In this Gospel verse there is a movement from seeing to touching. For Thomas it is as if seeing is not enough. He does not want merely to view the wounds, across the distance that separates him from the Risen Christ. He wants to close that distance and make contact with the wounds, to feel them. And closing the distance, so that he can not only see Christ but actually touch Him, is for Thomas the path to believing. It is as if this is what believing, for Thomas, actually means. 

Even before this, something similar takes place in the case of the other disciples as well. Jesus comes and stands among them, showing them His hands and His side, and He speaks to them. Here we are still in the realm of seeing and hearing, which require distance. But then the distance is closed and He touches them, by breathing on them: they no longer merely see and hear Him, but feel Him. And this moment of contact is the point of their greatest intimacy with Him, when He moves beyond appearing to them and telling them things, drawing them instead into a kind of union with Himself. Immediately beforehand He says to them As the Father has sent me, even so I send you – as if, in a single movement, they are being made continuous with His own mission from the Father into the world. And then, to effect what He has just spoken about, He breathes on them, and they feel this movement, this life, as something which is in His body and simultaneously in their own. As with Thomas, the unprecedented intimacy of touch is the culmination of the encounter.

Now in their case it is Jesus who touches them, when He breathes on them; but in Thomas' case, the touch is his own, so that it is Jesus Himself Who is touched. But this difference is unimportant. For when two people desire to touch each other, although the initiative of the touch may belong to only one of them, the other lets Himself be touched, and this availability to being touched is itself a kind of touching, so that the one who initiates the touch finds himself, despite his initiative, touched in return, and his touching is, simultaneously, a being touched. When Jesus touches the disciples by breathing on them, his breath is itself touched by the skin which receives and responds to the touch He imparts; and when Thomas touches the hands and the side of Jesus, he is himself touched, the marks of the wounds touch him back. 

The point of saying this is to emphasize that there is nothing unwilling in these encounters: they take place because there is an openness to touching and being touched, we can say even a desire for it, even if the desire is not fully recognized until it is fulfilled. It is as if the locked room – the private and hidden space in which all this takes place – itself invites and awaits the closure, through touch, of the distance that separates the inhabitants. There is physical distance between them, of course, but there are other kinds of distance as well. There is fear in the hearts of the disciples, and the unease of Thomas' search for faith. So there is tension, a bad proximity, which only the intimacy that is awaited can relieve.

We have said that this awaited intimacy lies beyond seeing and hearing. We can see or hear only what is set securely apart from us: if things come in too close, we can neither see them nor hear them: discrimination is overcome by intimacy. But intimacy does not have to mean the oblivion of awareness. In touching and being touched we are never more conscious of ourselves and of the otherness of the other, but this precision of awareness is no longer secured by distance but by proximity, in a nearness which in equal measure goes beyond either separation or identity. In other words, touch is preeminently unitive: it makes one what it simultaneously holds together as two. 

And this is the intimacy which Thomas and the other disciples are searching for. Christ draws them into such a union, beyond seeing and hearing, to prepare them for the time when seeing Him and hearing Him will no longer be possible, because He is destined to return to the Father. And yet in spite of this disappearance, He and they will be united by the deeper intimacy of touching and being touched. It is not until He breathes on the disciples that they and the Spirit of Christ touch one another; and, in that moment, they receive their understanding both of Who He is, and also of themselves, of their own identity as ministers of His mercy. Likewise, in the case of Thomas, Christ does not oppose touching and believing: on the contrary, He opposes believing to seeing – Blessed are those who have not seen and yet believe – whereas He presents touching precisely as an invitation to believe: Then He said to Thomas, 'Put your finger here, and see my hands; and put out your hand, and place it in my side; do not be faithless, but believing.'  Here seeing gives way, it becomes touch: touch me, He says, and therefore see; see, in other words, not by seeing, but by touching; and in this way come to believe. 'Have you believed because you have seen me?', He asks. And the answer is no, we have believed, not by sight, but by touch.       

By Fr Philip Cleevely, Cong. Orat.