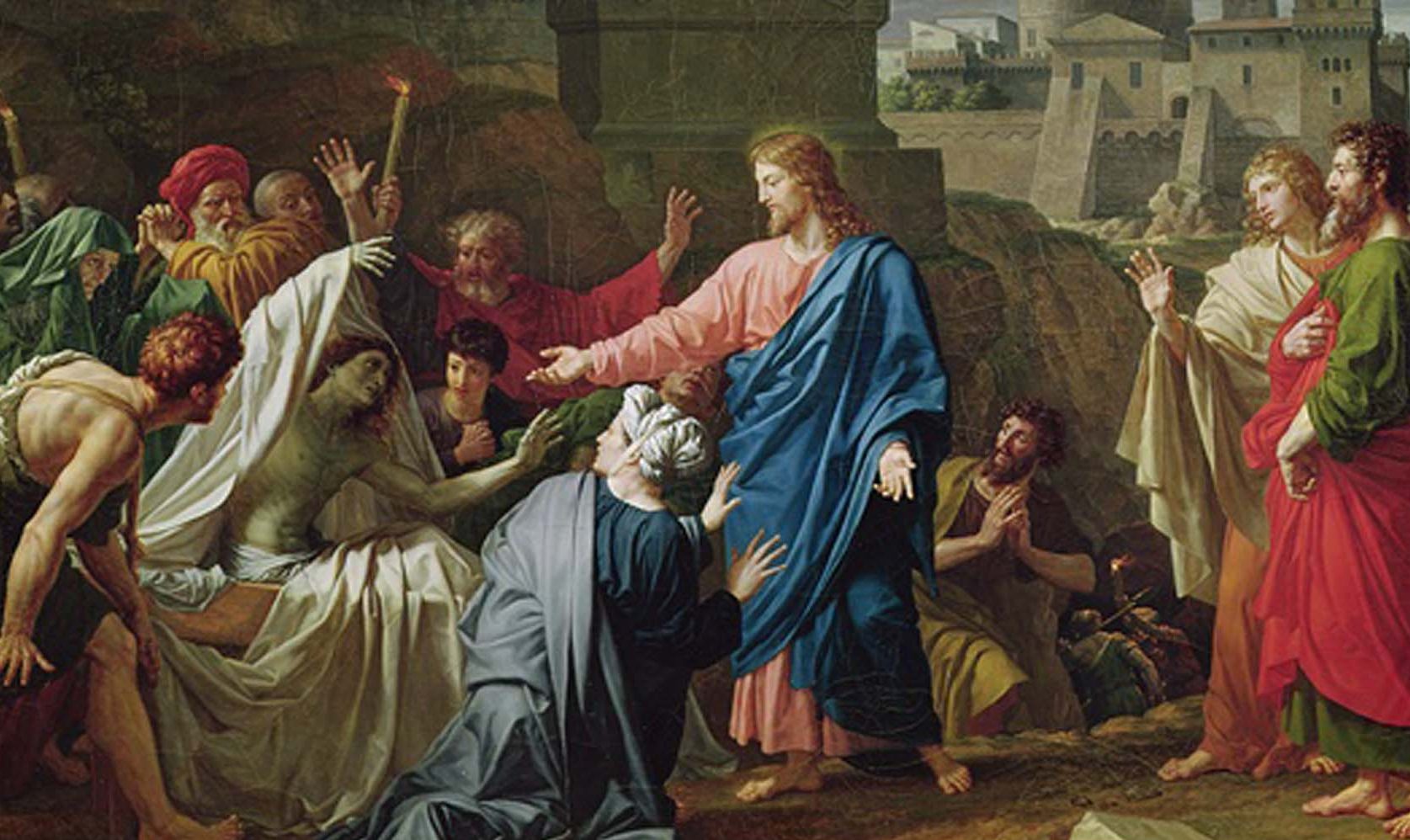 24 Jun

Reflections on Our Situation before God

Soon after the healing of the centurion's slave a second miracle, we are told, occurs. It differs from its predecessor in an obvious way. For whereas the slave was still alive – even though he was at the point of death, when Jesus healed him – the young man who was the son of the widow of Nain was already dead when Jesus arrived at the threshold of their city: As [He] drew near to the gate of the city, behold, a man who had died was being carried out, the only son of his mother, and she was a widow. This means that there is a greater intensity to the miracle that Jesus performs on this occasion: it is not only a healing, but a restoration of life itself. And this greater intensity seems to be reflected in the fact that Jesus' intervention touches upon a deeper human intimacy than is the case with the centurion's slave: for he was only a slave – albeit one who, as we are told, was dear to his master – whereas in today's Gospel it is a son who is brought back to life and returned to his mother. The miracle is therefore both more radical, and more personal, entering more fully than the healing that precedes it into the furthest regions of human distress and dispossession. And so it is all the more remarkable that this miracle occurs in a way which is from a certain point of view also more impersonal than the healing of the slave, a way that we might even characterize as anonymous.

In the case of the centurion's slave, the healing itself is preceded by a relationship to Jesus which is already in place. It is true that the centurion approaches Jesus through mediators rather than in person: first he sends the elders of the Jews to Jesus in order to recommend his cause, and then, as Jesus draws nearer, he sends his friends to Him to deepen his appeal for help. But although Jesus and the centurion never meet face to face, the centurion has nonetheless heard of Him, and knows what to ask of Him; and his mediated approach to Jesus in fact constitutes a pattern which we can recognize as anticipating the prayer of the Church. The centurion himself, the elders and his friends constitute something like a community of faith, consciously and deliberately collaborating in drawing from Jesus the grace that is sought. Jesus Himself confirms this, explicitly commending the faith in which the centurion's approach to Him is made. And of course this community of faith, anticipating the Church, is unmistakeable in the fact that the centurion's final words to Jesus, relayed by his friends, have become the basis for a normative confession of the Church herself, spoken by us as a kind of catechism of faithful confidence: Lord, do not trouble yourself, for I am not worthy to have you come under my roof … But say the word, and let my servant me healed.

By contrast, in the case of the raising of the widow of Nain's son, this whole image of the Church, so prominent in the case of the centurion, is nonetheless altogether absent. No one approaches Jesus, and indeed there is no implication that, at the outset, anyone involved even knows very much about Him. Rather than their approaching Him, it is Jesus Who approaches them. The carrying out of the dead man is already underway when Jesus arrives: it is as if He comes across it, drawn further into it not by anyone's appeal to Him, but solely by His own reaction to their distress: As He drew near to the gate of the city … a man who had died was being carried out, the only son of his mother … and a large crowd from the city was with her. And when the Lord saw her he had compassion on her, and said to her, 'Do not weep'. Then He holds up the procession, and without receiving any response from the mother He addresses her dead son directly – 'Young man, I say to you, arise' – and then gives him back to her, alive. We are told nothing of the son's reaction, or of his mother's; between them and Jesus Himself no reciprocity exists, no approach or confirmation of faith, no understanding. In contrast to the healing of the centurion's slave, the grace that Jesus bestows is given at a level that precedes conscious anticipation or response in those who receive it. They are simply absorbed in the extremity of their dispossession, and Jesus comes to them and transforms their dereliction having received nothing from them, in fact hardly being noticed, let alone acknowledged for Who He is. He acts towards them in a kind of anonymity, simply out of His compassion for them.

Now what are we to make of all this? I think we can see in these two miracles – the centurion's slave and the mother's son – something like a parable of our situation before God. The healing of the centurion's slave, as we have suggested, evokes faith and the Church: the conscious, articulate reciprocity between man and God, in which man's recognition of his need, and of the mercy of God in Christ which responds to it, have become the horizon in which human life unfolds. And this of course is fundamental. But we should not forget something even more fundamental, on which the whole possibility of faith and the Church radically depends. It is this even more fundamental dependence of which the miracle in today's Gospel reminds us. For before there was reciprocity between man and God, there was, first of all, only, on the one hand, our distress, which did not yet understand itself in relation to Divine love; and, on the other hand, there was the compassion which Divine love sent among us, before we could recognize it or value it, before even we could desire it. This is what St Paul insists upon when he tells us that God shows His love for us in that while we were yet sinners Christ died for us.

What this means is that we are loved before we are capable of love, and that we are capable of love only because – precisely in our lovelessness – God loves us nonetheless. This is the truth which today's Gospel opens up for us. Our consciousness of grace, our ability to articulate our need for it and our approach to it, the whole life of faith – all this rests upon a foundation which surpasses our consciousness of it and our ability to formulate it. And at that level, surpassing our own capacities to seek Him or respond to Him, God loves us, unreservedly – as He loves this mother and her son when, coming upon them absorbed in their distress, He is moved, beyond anything they have conceived, to give them the life that is His.

By Fr Philip Cleevely, Cong. Orat.